Hello minna~
Several weeks not updating my blog. Seem busy with final presentation and report for my industrial training. But last week I was able to steal some time to go shopping in KL and I found a Takoyaki and Okonomiyaki Stall in One Utama, Damansara. I ate takoyaki several times before and I don't know how's the original Japanese Takoyaki taste is. Actually Takoyaki is a octopus ball made from batter with special sauce, mayonnaise, dried fish flakes and seaweeds. But in Malaysia, they always make the variety of the fillings. Instead of tako@octopus, you can also choose chicken ham, prawn or unagi@eel. I ate several times at :
1. Ebitako @ Lower Ground floor, Sogo, Jalan TAR, KL
I ate takoyaki for the 1st time here. The taste is good. The size is just nice. The price is also cheap that is only RM3.80 for 4 pieces. They serve in square Polystyrene container.
2. Tako Tao @ Jusco One Utama and Midvalley
I don't know whether Tako Tao is available in others Jusco or not. And I don't think Jusco Ipoh has it except they just open the new branch in the 8 months my industrial training period. The size is bigger than the Ebitako one and only 3 pieces for 1 set. The price, I forgot.. Hehehehe... since they are big, I can't really tase the tako. They serve same way as Ebitako.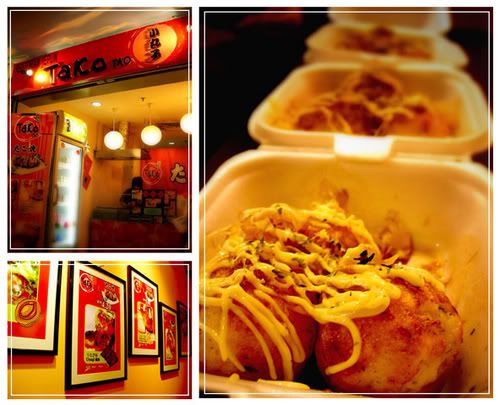 I only googled this image. So credit to the uploader. And I don't know where it is...huhuh
3. Takoyaki@ Sushi King
The taste is bad. The takoyaki even dry and taste like not enough ingredient. No sauce and fish flake and it's weird. But you'll get more takoyaki for one set that are 5 pieces. Hehehe...The price is around RM5 to RM6. Actually I forgot the price.
4. Takoyaki @ One Utama, Damansara (LG floor- in front of Cold Storage)
The taste is good. I love the presentation. They serve in takoyaki boat (just like in Japan) made from hard paper. 1 set - 3 pieces - RM4.00. Quite expensive maybe because the container. Huhuhuh...